This is a prop I built a functional hero of a while back and at that time I learned that the emitter was a painted clear cast part and that the 2x2 lightbar on the display was doing the STIII phaser RAC dilithium crystal light effect.
I will pull these photos if requested as I don't have the owner information but I suspect they may be Richard's. Yes these next two photos are RAC Prop photos. I always have trouble finding the front door to the photos.

For some reason, likely because I've been told so, I always thought the big red rocker switch had a transparent red rocker but this may not the case as can be seen in this screen shot which also shows the clear cast emitter lighting up. The one pictured above does have a transparent red rocker but that disruptor is not the one being used in the screen cap judging by the silver dry brush marks.

Now I'm also guessing that the red/black/silver strips are made from the same tape as used on the STIII Klingon Comms.
EDIT: here's my build.

I'll have a video shortly of my build.
Unusually fast for photobucket. I'd upload direct to TFW but my file sizes even for short videos are too large.
[URL=http://i225.photobucket.com/albums/dd52/sirwinpb/Klingon%20Comm/20170103201903.mp4]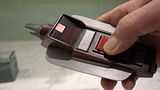 [/URL]